Home • About Us • Full Weddings • Features & Awards • Testimonials • Camera Gear • Pricing • Contact
Our Gear
As photographers, we rely on specific technology, a relatively new one in the span of our (human) history, to create and output our creativity and musings. We create by capturing and manipulating light. We observe angles, conditions, colors, and patterns. Sometimes that requires us to foresee things. Most of the time we have to take a step back and allow moments to unfold. Occasionally, we manipulate the events around us to create a vision.  As professional  photographers, we value and love our gear. Cameras can stop time, spread beauty, raise awareness, and let us remember and even change the world.
While the best gear isn't necessary to do all that, it certainly helps to get the job done, in a faster, more diverse, efficient and reliable way. The big modern full-framed cameras also do it all in higher resolution, with less noise, allowing us to push lighting to the limits and print in details that surpass the best film nowadays.
In even the most modern equipment, the unforeseeable can and does go wrong from time to time, to counter that we always have several backups on hand of all essential equipment.
The following is a list of our camera equipment, not including our retired photographic equipment.
Camera & On-the-Go Gear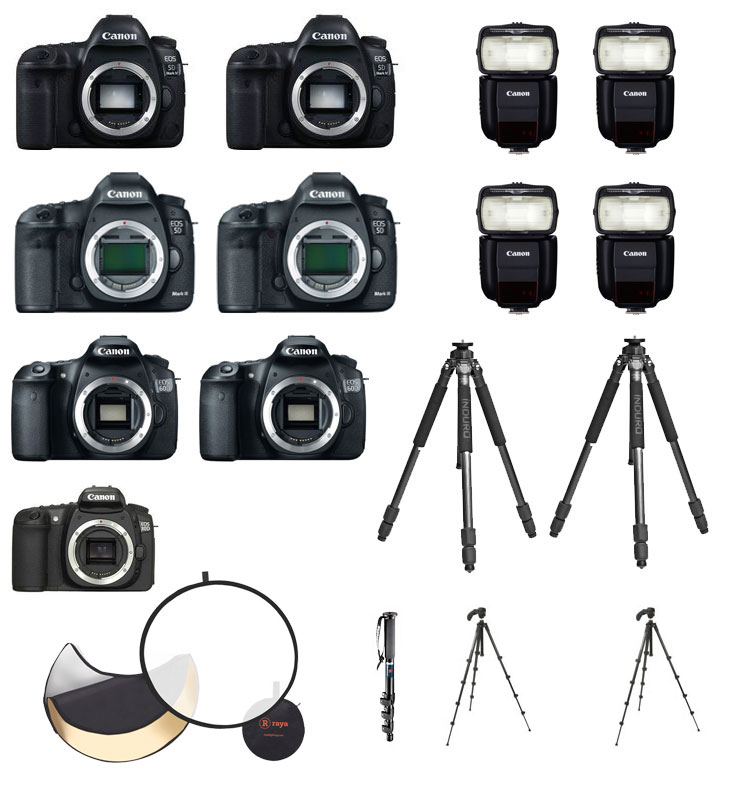 • Canon 5d mkiv x 2
• Canon 5d mkiii x2
• Canon 60d x 2
• Canon ex 450 on camera flashes x 4
• Manfroto Carbon Fibre Tripods x 2
• Manfroto backpack tripods x 2
• Manfroto monopod
• Promaster reflector
Lenses
If a camera is our canvas then a lens is our brush. Lenses let us get closer, see farther and wider, and control how much is in focus. Some lenses bring the background closer, others make it more abstract. Better lenses are clearer and brighter, and are one of the most important components of the array of tools we use. In the world of photography, it is generally agreed upon that you can better the quality of photographs with a better lens rather than with a better camera.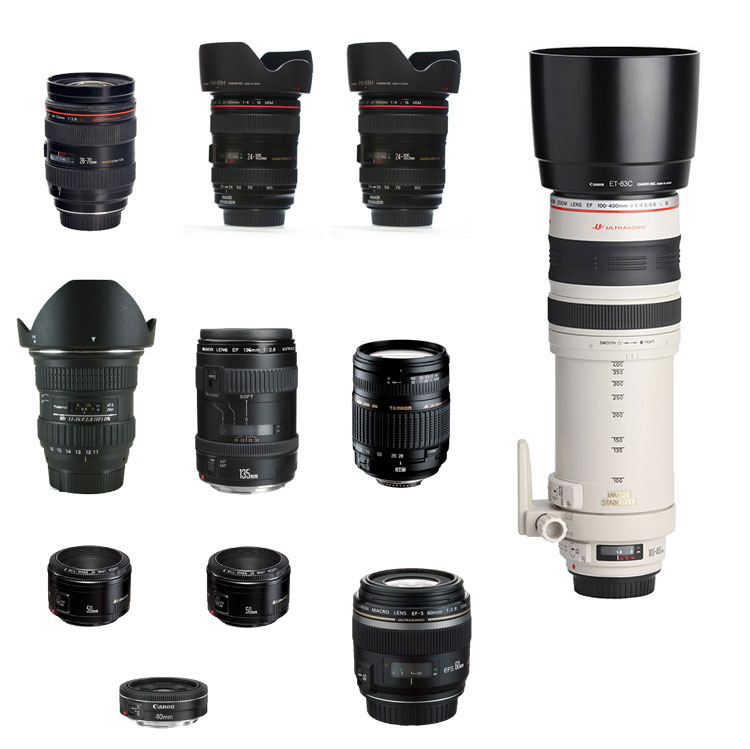 • Canon 24-70mm f4 L-series stabilized
• Canon 24-105mm f4 L-series stabilized x 2
• Canon 100-400mm f4 L-series stabilized
• Tonika 11-24 f2.8 ultra-wide
• Tonika check
• Sigma 26-150mm f2.8 soft focus
• Canon 50mm F1.5 prime x 2
• Canon 28mm f2.8 prime pancake
• Canon 35mm f1.5 macro
Studio Equipment
Used mostly in our studio and occasionally on location, our studio equipment is great for building our own lighting environment and controlling the dynamics of how a photograph can look.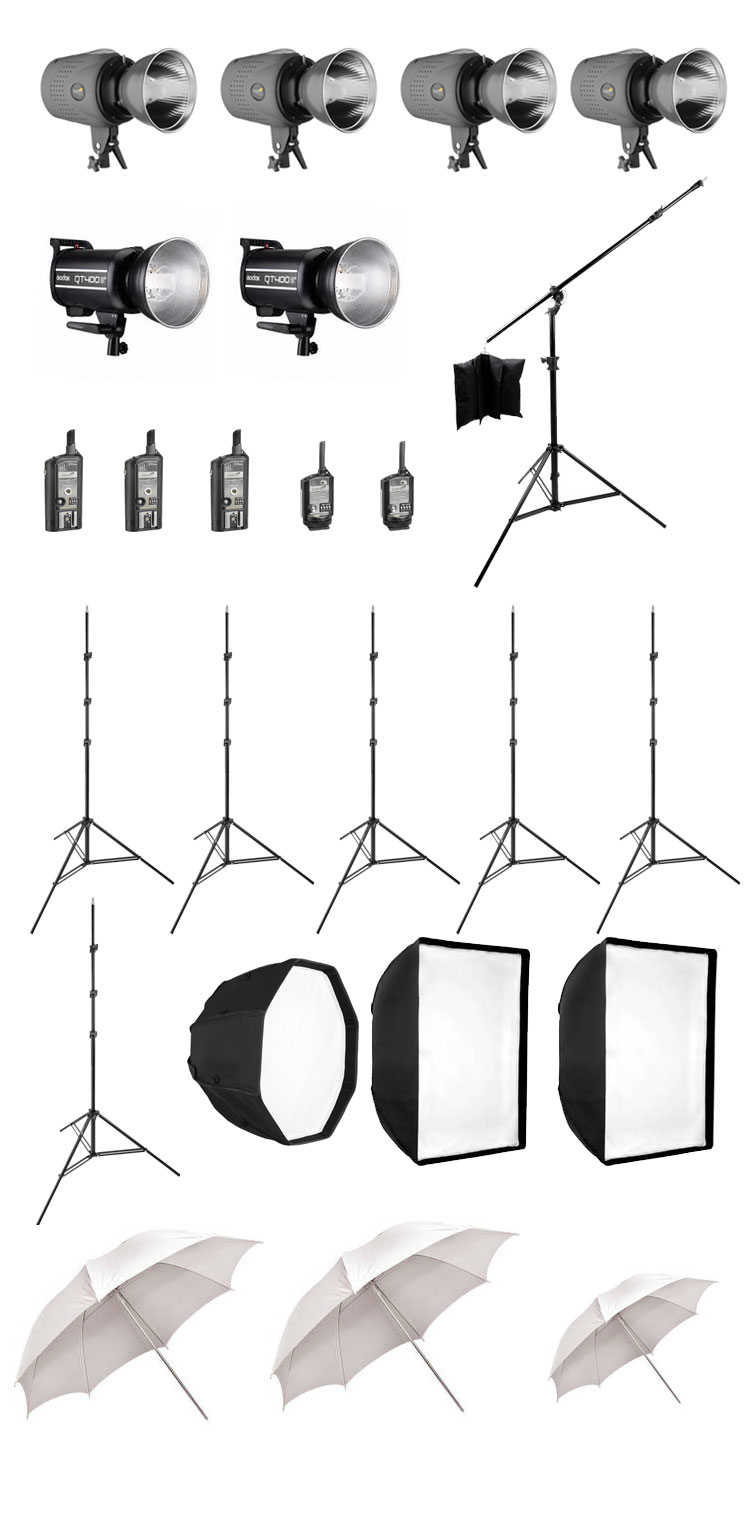 Toys
We have a few photography related toys, as all healthy photographers should. Mostly used around the homestead or if we find good use for them on the job. Our drone tops our list. We use it out over the water in our backyard for fun, or to scare rowdy boaters. Our second favorite is our instant camera, which usually makes the rounds when we have friends over. Nothing better than instant photos hanging on the fridge.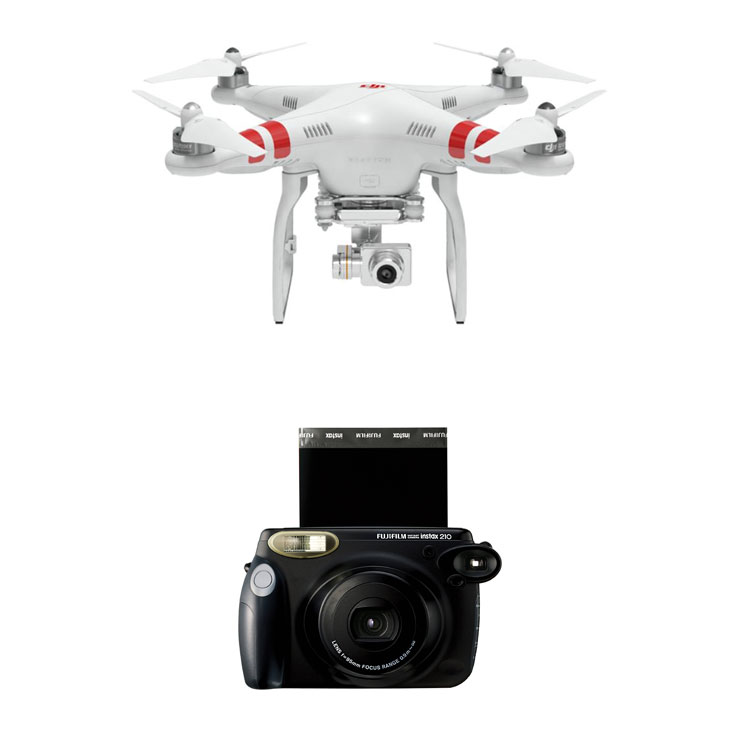 • DJI Phantom Drone
• Fuji Instant camera
Software
Our work is not done when a photo is taken, while an iPhone or point-and-shoot camera will take a photo in a jpg*, our cameras should only be used in RAW format. A RAW is a pure unprocessed or filtered file from the camera's sensor. They are 75% larger in general than a jpg, but very bland at first glance. We use our software to brighten, sharpen, white balance, and really tweak the photo files in any way we deem fit, sort of like your Instagram filters but with way more control. While our styling is purely custom, many other photographers will buy or even sell filters.
Aaron's education is based on photography and editing software, and he is an expert with all the software below.
Lightroom
A general photo editing software by Adobe, Lightroom allows us to adjust the look and feel of the image, as well as some minor retouching and lens correction.
Photoshop
A more advanced image editing software, Photoshop allows us to further adjust and correct the photographs. It is also excellent for more advanced retouching. Most of the time we use Photoshop for resizing, cropping, and web-readying images.
Simpleviewer
Simpleviewer is a gallery creation software, one of the best ways we've found over time to get your previews on-line in an easy-to-use way.
WordPress

The current architecture of our website.
Illustrator
Illustrator is not one of our most used software, photographically speaking, but this is a program Aaron used as a designer. He generally uses it nowadays to design logos and other graphic elements for his business.